This is THE BEST harness ever - and we've purchased many. We have a 25 lb Min Pin who is all muscle and has escaped every other harness we've had. We've had this one for 2 months and though she's tried to wiggle out of it, she can't! Highly recommend for anyone who has a crazy, I mean adventuresome dog like ours!
Joanna R
Harness Leads are quite possibly the greatest leash/harness system ever made. This is working very well for preventing my extra large puppy from pulling, and it is so easy to put on his hyperactive self. It is strong and sturdy, and I have no worries about him being able to slip out of it!
BLynn
I admit I was skeptical about this leash. We have an adorable puggle husky mix revue who loves to pull all leashes making walking cumbersome and unenjoyable. We've tried multiple leads, leashes and harnesses to help with this problem but none have worked. I saw this and while hesitant, watched the video and decided to give it a try. It's a game changer for us! It's easy to put on, stays in place and actually works! Our guy still pulls a little, bit the improvement has been so dramatic & when he pulls it actually makes him stop a few feet out. We are enjoying walks so much more now. I can not recommend this more highly! Love it!!
B
I am a volunteer dog walker at the Animal Welfare League and I give this leash a real work-out. Even the "friskiest" dogs are well secured in this harness wrap. The quality is really wonderful.
S. G.
This is the leash I've needed for the past six years! No pulling and it's virtually impossible for your pup to get out when put on correctly.
Beau B.
Absolutely amazing! My dog used to pull like no other. Although she's only 40lbs, I had the hardest time controlling her. Right after putting on this leash, NO MORE PULLING! And when I stop walking, she sits. I like how this leash is thick & has the rubber stops on it. It seems like it's comfortable for the dog as well as being easy to handle. I'll be buying a 2nd one for sure
Victoria B.
I rescue dogs, foster and occasionally adopt. My latest girl it pretty scared of everything after spending 8yrs of her life in a cage. Our last hurdle was to walk on a leash. She is an escape artist and has been able to 'back out' of everything I have tried! Until this harness/leash!! Within a few walks she realized she could not get out and started walking---it is second nature to her now thanks to this great harness!
Rachel W.
This is the first harness I have found that actually fits the depth of a Great Dane's chest comfortably with none of the rubbing to make sore spots that other harnesses have. It works well to control him (weight 145) and it will grow with him as it is adjustable in size so if he hits his top estimated weight of 170 it will still fit and and will still control him on our walks (I weigh 120 and I can easily control him).
Mac
This is the only leash my dog isn't able to get out of and believe me he has tried!!! I've purchased many harnesses that he was easily able to wiggle out of. I had totally given up on walking him for fear of escape and consequent death by car accident. I bought this leash as a gift for my brother-in-law who has a well behaved dog whose only issue was pulling. It worked so easily when walking her I found the bravery to buy another one and try it on my own dog. It has worked so much better than I would have thought. It's not only a great leash because he can't escape it, it's also teaching him quickly not to pull. It doesn't seem to put any strain on his breathing either which is very comforting. LOVE LOVE LOVE this- highly recommend!!! If this can work on my very wild 8 year old untrained dog it can definitely work for yours!
Gary A.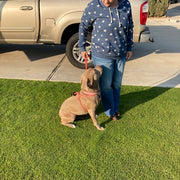 5 star product. Thank you for a leash that works!!! After retiring from the work force I began volunteering at Fur Friends 4 Life dog rescue in Bakersfield, CA. Christie the rescue founder praised your leash with such gusto and after using it at the rescue I purchased 2 for my small dogs. Life saving leash. I adopted a small dog from the animal shelter who spooks at the slightest thing. She was constantly backing and slipping out of her harness. Our walks have been ever so much nicer since using your leash. Christie praises and recommends your leash at every greet and meet. I do hope you will reach out to her and give her an atta girl she works so very hard to find the RIGHT home for our rescues. Thank you for a great leash from Furfriends4life.org
Marcia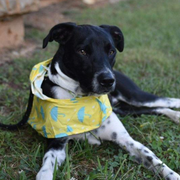 Benji had never walked on a leash before I adopted him. The shelter believes his previous owner had a backyard she would let him out to - so basically, Benji was leash-incompetent. I was talking with my sister, she has plott hounds she adopted around 6 months old and she recommended Harness Lead. It is our go to leash. I love our Harness Lead.
Molly
Zoey is my year old American Bulldog mix that can pull harder than any dog I've owned. She has hated every harness I've tried and I was sincerely worried she'd hurt her throat wearing a collar. I saw your harnesses on Pitbulls and Parolees and finally got mine yesterday! She LOVES it! Easy to put on and adjust, she can move freely and no more pressure on her throat. THANK YOU!
Michelle P.
"Really great! They both pull like crazy and they couldn't do it. I got to walk with both their leashes in one hand in my pocket lol I've never been able to do that I put it on Stella wrong at first and it still worked, and as soon as I put it on right it was incredible."
Atkinson
It's a stipulation of adoption with our rescue that you purchase one of these harness leads for safety reasons. In rescue with the constant flow on dogs that are not very well known to us, the nervous, scared, and energetic are snug in these and can not escape. I think many a dog may have backed out or wriggled free of a collar and leash, slip leash, or lesser harness, they also reduce pull. I use them for my personal dogs too. Myself and the entire team have tried several including certain 'easy on and quick release' harnesses, and we had dogs back out of them too. No mishaps with harness lead, we love them, customers for life.
Tina-Go Dogs Go Rescue
This is a life saver.. We had another harness but my husky kept getting out of it during his walks and the last escape almost cost his life .. Found this leash harness and my gosh he catch get out of this the harder he tried the tighter it got . He does bot even try anymore and the walks are so much easier If you have an escape artist or not this is the harness to get
E
Find us on the shelf
Enter your zipcode in the search bar below to find Harness Lead in a store near you!